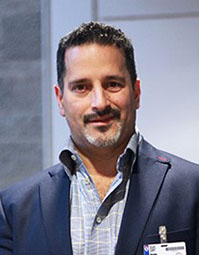 SIRHAN, Denis
Vascular Faculty
Dr. Denis Sirhan is a neurosurgeon who specializes in skull base approaches for complex tumours and cerebral aneurysms and performs endoscopie surgery for pituitary and anterior basal lesions. He has wide experience in microvascular decompressions for pathologies such as TGN and hemifacial spasm. He also has a large adult hydrocephalus practice.
Dr. Sirhan received his Medical Degree from the University of Montreal (1989) and conducted his neurosurgical residency at Notre Dame Hospital followed by a Cerebrovascular Fellowship at Wayne State University. He has been a Fellow of the Royal College of Physicians & Surgeons of Canada since 1996 and is a Diplomate of the American Board of Neurological Surgery.
Dr. Sirhan is an invaluable member of a range of committees and professional societies, Member of the Canadian Adult Hydrocephalus Group, Scientific Committee Member of the North American Skull Base Society and Vice-President of the "Association de Neurochirurgie du Quebec". He is frequently invited to participate and present at national and international conferences and congresses. Dr. Sirhan is instrumental in passing on significant medical knowledge and expertise. His practice concentrates on: cerebral aneurysms and A VM's; cavernous malformations; pituitary tumours; cranial nerve syndromes requmng microvascular decompression; normal-pressure hydrocephalus; skullbase tumours including schwannomas, meningiomas, chordomas and other malignancies.