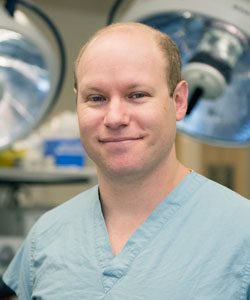 ROTENBERG, Brian
Vascular Faculty
Dr. Brian Rotenberg MD MPH FRCSC, is an Associate Professor of Otolaryngology – Head and Neck Surgery at Schulich School of Medicine and Dentistry at Western University (London, Canada) and Residency Program Director for the department.
He obtained his MD degree at University of Toronto, as well as Royal College certification in Otolaryngology – Head & Neck Surgery.  He is dual fellowship trained in sinonasal surgery and pediatric surgery, both from University of Melbourne (Australia), and joined the faculty at Western University in 2007.
He is a founding member of the International Surgical Sleep Society and is now sits on the society's Executive Board. Dr. Rotenberg is the outgoing Scientific Chair of the Canadian Society of Otolaryngology. He is an invited speaker nationally and internationally on topics relating to sleep apnea and rhinology and has more than 100 peer reviewed publications and book chapters as well as funded research grants to study both sleep surgery and sinonasal research.
Dr. Rotenberg is the Medical Director of Advanced Surgical Operatory Ltd., a division of Advanced Medical Group.  In this role he has helped develop, and now has oversight of, the first stand-alone Ambulatory Surgical Center in Southwest Ontario.  Dr. Rotenberg is the Chief Medical Officer for Citruvio Communications Inc, developing wireless apps for pager replacements and patient communication tools to facilitate information exchange in the modern healthcare environment.  Dr. Rotenberg is the Vice-Chair of the Medical Advisory Committee for St. Joseph's Health Care, and Assistant Director of Quality of Care
Wherever he is, and whatever he is doing, Dr. Rotenberg always puts his family first, including his wife Beverley and their three boys Jacob, Kieran, and Nathan.